Ice Upon Fire @ Tranceplorations 02/2010
Radio Show, 10/02/2010 à 19:45 | comments (3) | reads (1952)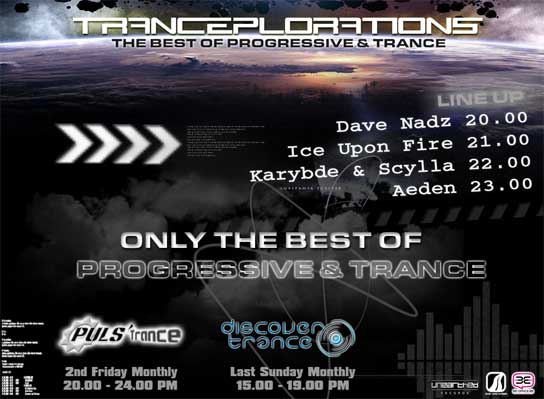 Hi everyone. A new épisode of tranceplorations is coming, this month i've prepared for you a powerfull mix with hot stuff progressive and uplifting. You'll also discover my new production "Mind Stories" so tune in !

Dont forget to
send me a comment and vote
for your favorite track of the month !!
Tracklist:
01 - Dash Berlin - Never Cry Again (Amurai's Los Angeles Mix)
02 - Mike Shiver & Aruna - Everywhere You Are (Mike Shivers Catching Sun Mix)
03 - Ice Upon Fire - Mind Stories (Original Mix)
04 - Nery - Redawn (Andy Blueman Remix)
05 - Simon Patterson - Miss You (Original Mix)
06 - Roger Shah & Signum - Healesville Sanctuary (Signum Mix)
07 - John Askew - Advent Of Us (Gary Maguire Remix)
IUF FAVORITE
08 - Neal Scarborough & Gary Maguire - As You Are (Original Mix)
YOUR FAVORITE
09 - Ronny K presents EOYC - Morning Light EOYC Anthem (Original mix)
10 - RAM - RAMsterdam (Jorn van Deynhoven Remix)
11 - Sonic Element - Paint The Blue (Deep Blue Mix)
Broadcast schedule:
Check
http://www.iceuponfire.net/dates.html
Listen Online:
Download:
Ice Upon Fire @ Tranceplorations 02/2010