Ice Upon Fire @ Tranceplorations 03/2010
Radio Show, 09/03/2010 à 23:18 | comments (5) | reads (2481)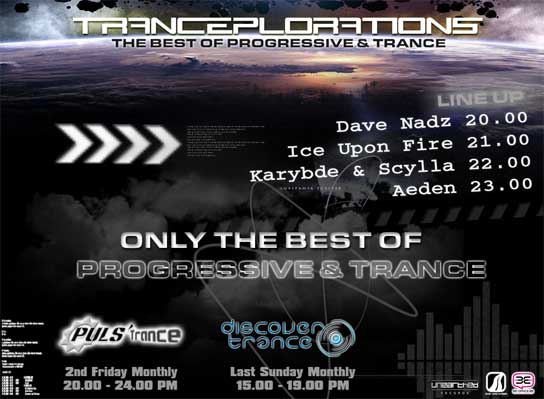 Hi everyone. A new épisode of tranceplorations is coming, i've got for you my favorite tracks of the moment: le last remix of ariwave, the new ferry tayle & static blue and the new karybde & scylla, discover also the last mashup of Dephasys !
Dont forget to
send me a comment and vote
for your favorite track of the month !!
Tracklist:
01 - Tastexperience - Hydewood (Airwave Remix)
02 - Zoo Brazil feat Leah - You Can Have It All (George Acosta Remix)
03 - Karybde & Scylla - Delivrance (Original Mix)
04 - Heatbeat - Mr. Walrus (XGenix Remix)
05 - Marcus Schossow & Reeves Feat. Emma Hewitt - Light (Stoneface & Terminal Remix)
06 - Ice Upon Fire - Mind Stories (Original Mix)
07 - Ferry Tayle & Static Blue - Trapeze (Original Mix)
08 - Iio - Rapture (Kaimo K Bootleg Remix 2009)
09 - Karybde & Scylla - Infinite Shores (Stonevalley Mix)
10 - John Askew - Advent Of Us (Gary Maguire Remix)
11 - Armin van Buuren - This World is Watching the Control Freak (Dephasys mashup)
Broadcast schedule:
Check
http://www.iceuponfire.net/dates.html
Listen Online:
Download:
Ice Upon Fire @ Tranceplorations 03/2010