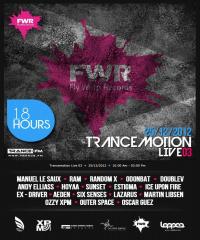 Hello world !
First of all i'd like to wish you a merry christmas. I hope you had a sweet day with your family and loved ones. So Today i was invited by
Fly Warp Records
for the Trancemotion live 003 event broadcasted on
http://www.trance.fm/
bringing on togheter Martin Libsen, Ozzy Xpm, Lazarus; Six Sense, Aeden, Estigma, RAM, Double V, Manuel Le Saux & more. I would have liked to tuned in live to share the tracklist live with you but i have not been able to be home in time. So if you've not been able to catch the live broadcast here is a catch up session.
I hope you'll like it, dont hesitate to share the link, leave me a comment and tell me what you think about it !
Listen Online:
Trancemotion 003 by Iceuponfire on Mixcloud
Download:
Ice Upon Fire @ Trancemotion Live 003
Tracklist:
00 | (Intro) Airwave - The Sum Of All Questions (Original Mix) | JOOF Recordings
01 | Tonny Nesse - Hole In The Sky (Arctic Moon Remix) | Future Sound of Egyptl
02 | Gareth Emery featuring Christina Novelli - Concrete Angel (John OCallaghan Remix) | Garuda
03 | Mike Shiver Vs Rafael Frost - Everywhere You Are Red (Ice Upon Fire Soft Mashup)
04 | Estiva & Tania Zygar - Death Of Me (Ferry Tayle Remix) | Enhanced Recordings
05 | Chris Metcalfe - Watching Over Me (Original Mix) | Future Sound of Egypt
06 | Simon Patterson vs. Poshout feat. Ange - Beside New Life (LarSson & Lucas Comes Mashup)
07 | Matt Bowdidge - No Room To Breathe (Original Mix) | Discover
08 | Sebastian Brandt - Mana (Original Mix) | A State of Trance
09 | Will Atkinson - Breathe It (Original Mix) | Night Vision
10 | Paul Webster - Engaged (Indecent Noise Remix) | Vibrate Sounds
11 | Peter Plaznik - Operator Bandit (Sektor V remix) | Mental Asylum
12 | Photographer - Airport (Original Mix) | Monster Tune