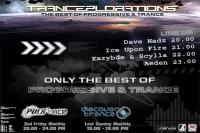 Hello world !
Tomorrow tune in the next episode of Tranceplorations on
Pulsradio Trance Chanel
(Stream link:
http://www.pulsradio.com/pls/pulstrance-adsl.m3u
). Prepare to be surprised because i'll play a lots of different king of Trance music (are we tranceploraters or what?

), so many influences fom techno, psy trance, progressive & uplifting, also some great classics bringing us few years back to please our ears and senses. Rendez-vous this friday on pulsradio.
Listen Online:
Tranceplorations 03-2013 by Iceuponfire on Mixcloud
Tracklist & download:
01 | John 00 Fleming - The Centre Of The Universe (Original Mix) | JOOF Recordings
02 | John 00 Fleming - 5000 Light Years From Earth (Original Mix) | JOOF Recordings
03 | Redhead - Baloo (Original Mix) | Suara
04 | Matt Minimal - The Fatal Bass (Original Mix) | Perfekt Groove Recordings
05 | TDR - Squelch (Sander Van Doorn Remix) | Oxygen Recordings
06 | Hammer & Bennett - Language (Santiago Nino Dub Tech Mix) | Coldharbour Recordings
07 | NOK & Klopgeister - Soultrigger (Day Din Remix) | Blue Tunes Records
08 | Ice Upon Fire - ID | TBA
09 | Paul Miller - Galaxy (Original Mix) | Offshore Music Entertainment
10 | Super 8 - Alba (Original Mix) | Anjunabeats
11 | Duderstadt & Store N Forward - Broken (Nitrous Oxide Mix) | Afterglow
12 | Waio & Avalon - Super Duper High (Waio Remix) | Solar Tech Records
13 | Tilt - Angry Skies (Vadim Soloviev Mix) | Lost Language
Tracklist download:
Ice Upon Fire @ Tranceplorations 03-2013